Discover more from Filed
Curating the first draft of tech history with a dose of perspective.
Measuring Out Your Life By Daily Users (Filed #007)
Slack and Microsoft's row extends to who has a bigger user base. Plus, Google's desire to work with the military, AI's failure to be inclusive, and why the internet's inventors are horrified.
The Big Picture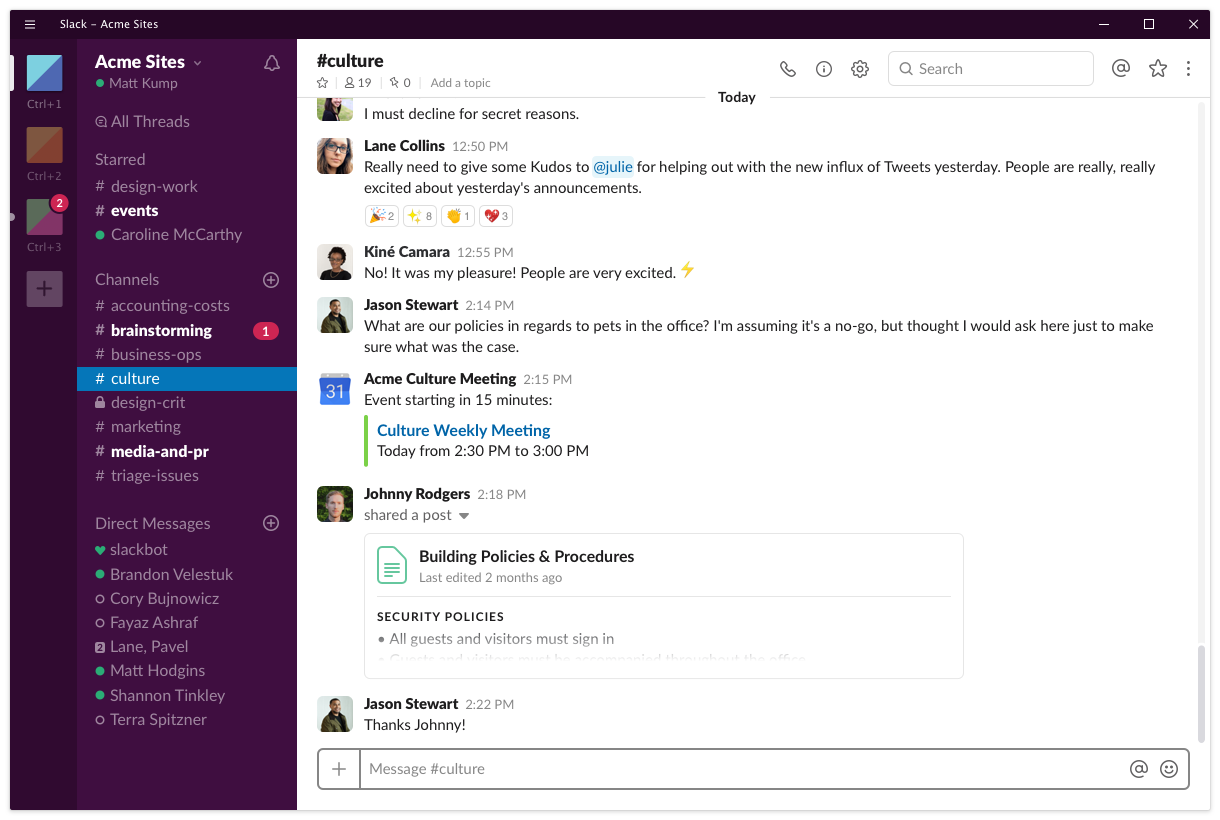 I've always wondered whether a company was relevant if it wasn't engaged in some rivalry with its industry's 800-pound gorilla. Everyone has competition but there comes a time when you have to hit above your weight class, so to speak. In tech, Apple, Google, Facebook, Microsoft, and Amazon are often the target and skirmishes are bound to occur. This week, I wanted to focus on one, in particular, involving Microsoft. No stranger to these battles, the Windows-maker has entered into a row with Slack over which one has a larger number of daily active users: the former announced that it has 20 million DAU while the latter had 13 million.
A measuring contest? Understandable that companies use this metric as a sign of growth, but look deeper to understand its meaning. For one, how did Microsoft get those users—was it organically or did they come from a pairing of its Teams software with Office 365 which has 200 million users? Or did it come from those migrating from Skype for Business? Furthermore, not all companies are the same so while Microsoft can tout 20 million users, many will probably come from large enterprises while Slack is likely made up of smaller businesses.
"Where does that leave us, the observers? In something of a muddle," the former Crunchbase News editor-in-chief and Filed reader Alex Wilhelm told me. "We need one more set of DAU results from the companies to better understand the current trend of DAU growth; if Microsoft continues to pull ahead, it can take the leadership crown at least in terms of usage. If Slack can narrow the gap, we'll return to the argument of how much A is needed to constitute a real DAU."
Slack isn't taking this slight lying down, publishing a blog post saying that not all daily active users are created equal and the real metric to look at is engagement":
DAUs get cited a lot, but what, really, is their significance? In our book, the "U" is what matters: Use! Engagement is what makes Slack work — you can't transform a workplace if people aren't actually using the product. And we love the people building apps and integrations on the Slack platform, because they help drive that engagement.
If you're looking at the number for a company, ask if it's really an apples-to-apples comparison? This doesn't just apply to Microsoft and Slack, but also to Facebook versus TikTok, Snap, Twitter; Google and Apple; Box and Dropbox; and many others. DAUs are a closer indication into a company's growth direction, much more than monthly and looking just at that specific business, it can be an indicator of progress (or not), but when using it to slam on a competitor, much more detail is needed to back up any type of claim.
But one thing is for certain, in a battle between publicly-traded competitors, the bragging about DAU can have an impact on stock price as it did when Microsoft dropped its news—Slack's stock slipped more than 8 percent.
P.S.: I'd appreciate it if you added this Filed email address to your address book so it doesn't get blacklisted or labeled as "spam" accidentally. Thanks!
P.P.S.: Due to the Thanksgiving holiday, next week's Filed will be pre-empted by family gatherings. We'll return back to our regularly scheduled programming the following week.
---
Want More Tech News?
If you're looking for more up-to-date news about tech, check out my Flipboard magazine "FYI". You can also follow my magazine "The Long Sunday Read" for great long-form articles about the tech industry. Both magazines are updated regularly.
---
Tech Briefs
Every week, Digital Trends and Flipboard produce a segment called "Tech Briefs" where we cover the week's top tech news in 10 minutes (or so). It's also available as an audio-only podcast so please subscribe to it in your favorite app (Spotify, Google Play, Apple Podcast, Stitcher, and Soundcloud) because we oftentimes put together some exclusive episodes!
In this week's episode, we discuss Tesla's electric pickup truck ("Cybertruck"), Google Stadia's launch but with serious data issues, and Uber's proposed security features.
» To see more episodes of "Tech Briefs," subscribe to my YouTube channel.
---
10 Must-Read Articles
Hope Reese,
OneZero by Medium
The engineers behind OLPC ignored the concerns of the very people it was meant to benefit.
Joshua Brustein and Mark Bergen,
Bloomberg Businessweek
Google wants to do business with the military—many of its employees don't.
Natalie Jarvey,
The Hollywood Reporter
Having helped transform the music industry, Ek and content chief Dawn Ostroff set their sights (and your ears) on spending hundreds of millions on exclusive podcasts and recruiting Jordan Peele, Mark Wahlberg and the Obamas in a race for scale with Apple and Amazon.
Charlie Campbell,
TIME
China—projected to have one CCTV camera for every two people by 2022—is a harbinger of what society looks like with surveillance unchecked
Garrett Sloane,
AdAge
His answer to Facebook and Google: Independent algorithms running the internet.
Rachel Metz, CNN Business
Artificial intelligence doesn't know what to make of Os Keyes. The 29-year-old graduate student is dark-haired, tattooed and openly transgender, using the pronouns "they" or "them." Facial analysis software, however, typically assigns each face it analyzes one of two labels: male or female. The software literally can't categorize Keyes correctly.
Raymond Zhong,
The New York Times
Alex Zhu, the head of the Chinese-owned viral video app, is trying to assuage Washington's fears. "I am quite optimistic," he said.
Nicole Nguyen,
BuzzFeed News
Earlier this year, one woman stumbled into a side hustle that's resulted in hundreds of free Amazon products, worth tens of thousands of dollars.
Mark Sullivan,
Fast Company
The first real internet connection happened 50 years ago—but those that sent the first messages on what would become the modern internet aren't so pleased with their creation today.
Mark Harris,
MIT Technology Review
A sophisticated new electronic warfare system is being used at the world's busiest port. But is it sand thieves or the Chinese state behind it?
---
That's all there is!
Thanks for not only subscribing but reading my newsletter. I hope you found it both enjoyable and informative. I encourage you to check out my Flipboard magazines and follow me on Twitter, Facebook, and LinkedIn. And please send me your feedback: how can I do better? Worse? Things you'd like to see featured?
If there are articles you think I might be interested in and should add to a future issue of Filed, please send it to me! I love to discover great content!
I'm off to scour the internet for more news…check your inbox next week for another issue of Filed. Share this with your friends and family and if they like it, encourage them to sign up at filed.news!