Discover more from Filed
Curating the first draft of tech history with a dose of perspective.
The Nostalgia Differentiator (Filed #006)
When the past is used to sell the future. Plus, the man behind Zuckerberg's deepfake and the immigrants that took on Amazon.
The Big Picture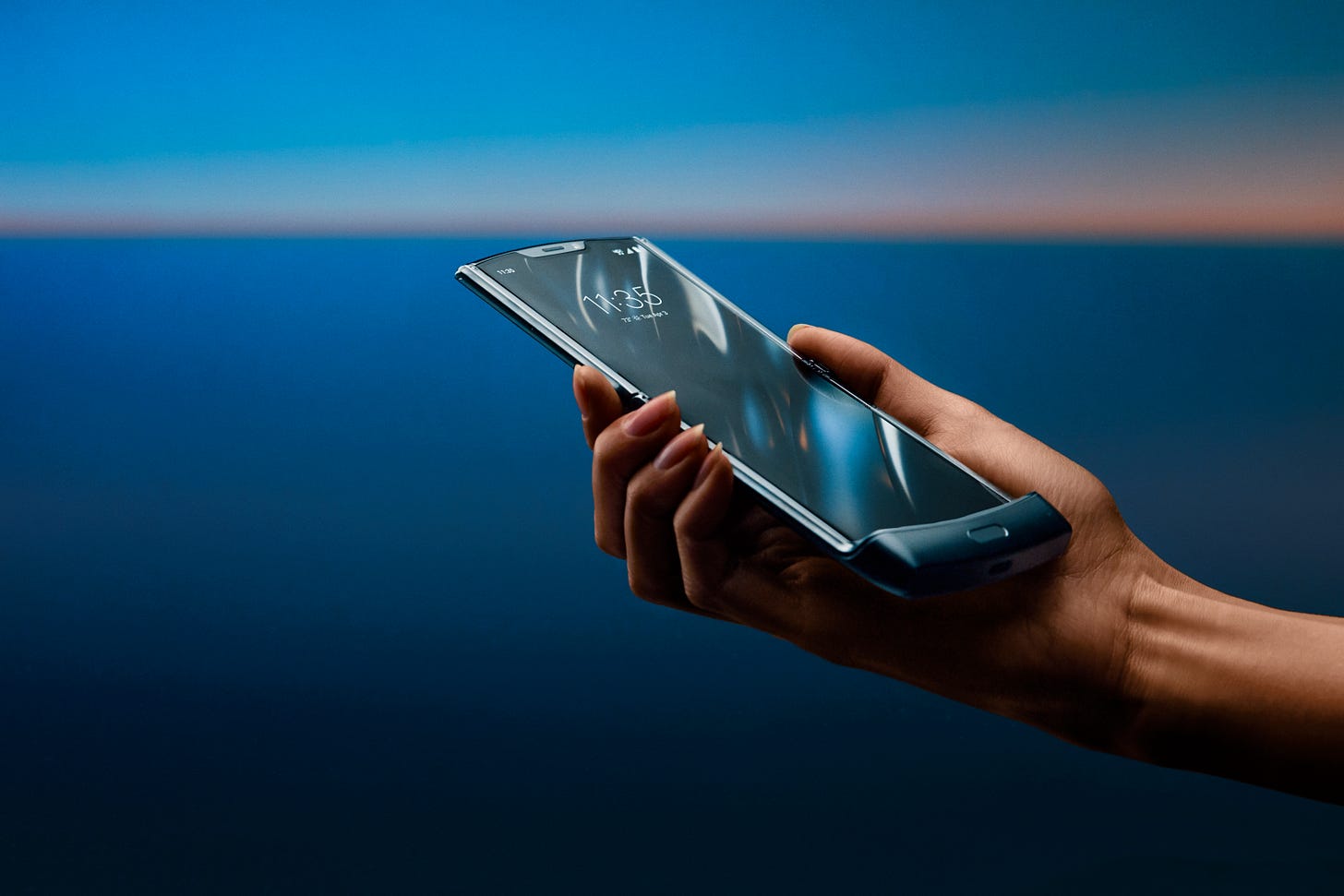 Right as I was about to call it a night on Monday, I decided to postpone my slumber in favor of downloading the Disney+ app on my Apple TV. It had been one of the things I eagerly longed for, a chance to watch all the Disney-affiliated shows and movies that I loved. Sure, it was a cheaper streaming service than Netflix, but that wasn't the reason why I wanted it. It was because of what it represented, at least for me: my childhood. 
I didn't adequately prepare myself for what I'd expect when using Disney+ for the first time. I suspected it would have an "oh, this is a cool app and here are all the shows that I can watch" feel to it. But when I logged in, it became overwhelming because I didn't know where to start—and this was a good thing. Did I want to watch "Gargoyles", "X-Men", and of the "Star Wars" movies, "The Simpsons"? It was an experiential explosion and what really set me off was being able to find the 1960s take on "The Swiss Family Robinson", which I remember watching when "The Wonderful World of Disney" came on every Sunday evening.
Nostalgia is an interesting thing, especially when you think about how it's used to market goods and services. This week I had two instances where I flashed back to earlier times. Besides the aforementioned Disney+, the launch of the Motorola Razr phone got to me. 
Ceteris paribus, what will distinguish competitors? Streaming service providers don't have competing features, at least what consumers care about. At the end of the day, it has to do with the catalog of original content and rights to popular shows. And when it comes to mobile devices, the flare of phone reveals have become mediocre—it can be a stretch to find that one significant thing to get really excited about. Cameras are all on par with one another, everyone is on their way to ditch the headphone jack, and the audio/video capabilities are comparable.
Motorola has been resigned to the back of the pack when it comes to smartphones and it's not the first to tackle the foldable market. But rather than conform with how Samsung, Microsoft, and Huawei conceive a foldable, Motorola leveraged perhaps its biggest asset, the iconic Razr flip form factor. And that has gotten everyone talking about this flip foldable device. It tugs on our heartstrings, bringing up fond memories of taking phone calls from friends and hanging up. Motorola hopes it conjures up feelings of wanting…and to be honest, I do want the new Razr phone, but it's not something I'm going to pay $1,500 for, especially when the specs of the smartphone underneath it are mediocre compared to my Samsung Galaxy S10+ (fingerprint scanner be damned). 
I'm fascinated by how the use of nostalgia can attract us to products, especially when there's nothing else that helps a product or service stand out. When you buy a car, nostalgia could impact your purchase since the vehicle might remind you of a model your parents or close family member once had. Choosing a music streaming service might be because it has tunes you remembered listening to in your grandparent's kitchen. And debating between HBO Max and Netflix might be because of who has episodes of "The Office", "Big Bang Theory", and who doesn't. 
Nostalgia won't always work because it's difficult to ensure that the memories that surface are good ones—we don't have the same experiences. And if a company relies on it too much, it could be a sign that while they're trying to bring back good times, it might not have anything planned moving forward, and that's very bad.
P.S.: I'd appreciate it if you added this Filed email address to your address book so it doesn't get blacklisted or labeled as "spam" accidentally. Thanks!
---
Earlier this week, I joined CNET's "The Daily Charge" podcast to talk about the Motorola Razr. Watch this video to hear what I had to say about the phone.
---
Want More Tech News?
If you're looking for more up-to-date news about tech, check out my Flipboard magazine "FYI". You can also follow my magazine "The Long Sunday Read" for great long-form articles about the tech industry. Both magazines are updated regularly.
---
Tech Briefs
Every week, Digital Trends and Flipboard produce a segment called "Tech Briefs" where we cover the week's top tech news in 10 minutes (or so). It's also available as an audio-only podcast so please subscribe to it in your favorite app (Spotify, Google Play, Apple Podcast, Stitcher, and Soundcloud) because we oftentimes put together some exclusive episodes!
In this week's episode, we review our experience with Disney+, talk about Apple's 16-inch MacBook Pro laptop, and (of course) look at the Motorola Razr.
» To see more episodes of "Tech Briefs," subscribe to my YouTube channel.
---
10 Must-Read Articles
The New York Times Magazine
This multi-part series looks at how the utopia we envisioned the internet to be wound up being so complicated. There are articles on online fan culture, censorship, the reality of China's internet versus the internet we're used to, the education teenagers get online, combating the online cesspool, the future of the "net", and the battle of the tech giants.
George Gene Gustines,
The New York Times
The industry has evolved from pencils and inks to computers and tablets.
Maya Shwayder, Digital Trends
Bill Posters is a former street artist based in the U.K. You may not know his name, but if you've been paying attention, you've likely seen his work.
Ari Altstedter and Lucas Shaw,
Bloomberg Businessweek
India's T-Series built an online empire from Bollywood. Now it has to survive Netflix.
Roger Cheng, CNET
Apple's marketing chief shares his thoughts on butterfly vs. scissor keyboards and whether the 16-inch MacBook Pro's Magic Keyboard will appear in other Macs.
Josh Dzieza,
The Verge
How the tiny town of Roundup, Montana, became a hub in Amazon's supply chain
Mark Seal,
Vanity Fair
With its cheap geothermal energy and low crime rate, Iceland has become the world's leading miner of digital currency. Then the crypto-crooks showed up.
Jessica Bruder,
WIRED
How a group of Somalis became leaders in the fight to change a tech behemoth.
Kaitlyn Tiffany,
The Atlantic
A slew of new start-ups want to help people manage their relationships the way they would sales leads. Should we be worried about our friends turning us into data points?
Quinn Myers,
Mel Magazine
And the untold story of a Spotify killer that never saw the light of day.
---
That's all there is!
Thanks for not only subscribing but reading my newsletter. I hope you found it both enjoyable and informative. I encourage you to check out my Flipboard magazines and follow me on Twitter, Facebook, and LinkedIn. And please send me your feedback: how can I do better? Worse? Things you'd like to see featured?
If there are articles you think I might be interested in and should add to a future issue of Filed, please send it to me! I love to discover great content!
I'm off to scour the internet for more news…check your inbox next week for another issue of Filed. Share this with your friends and family and if they like it, encourage them to sign up at filed.news!