Discover more from Filed
Curating the first draft of tech history with a dose of perspective.
Zuckerberg's Political Theater (Filed #003)
Facebook's CEO pitches free expression over enforcement and that Congress has nothing to fear from Libra.
The Big Picture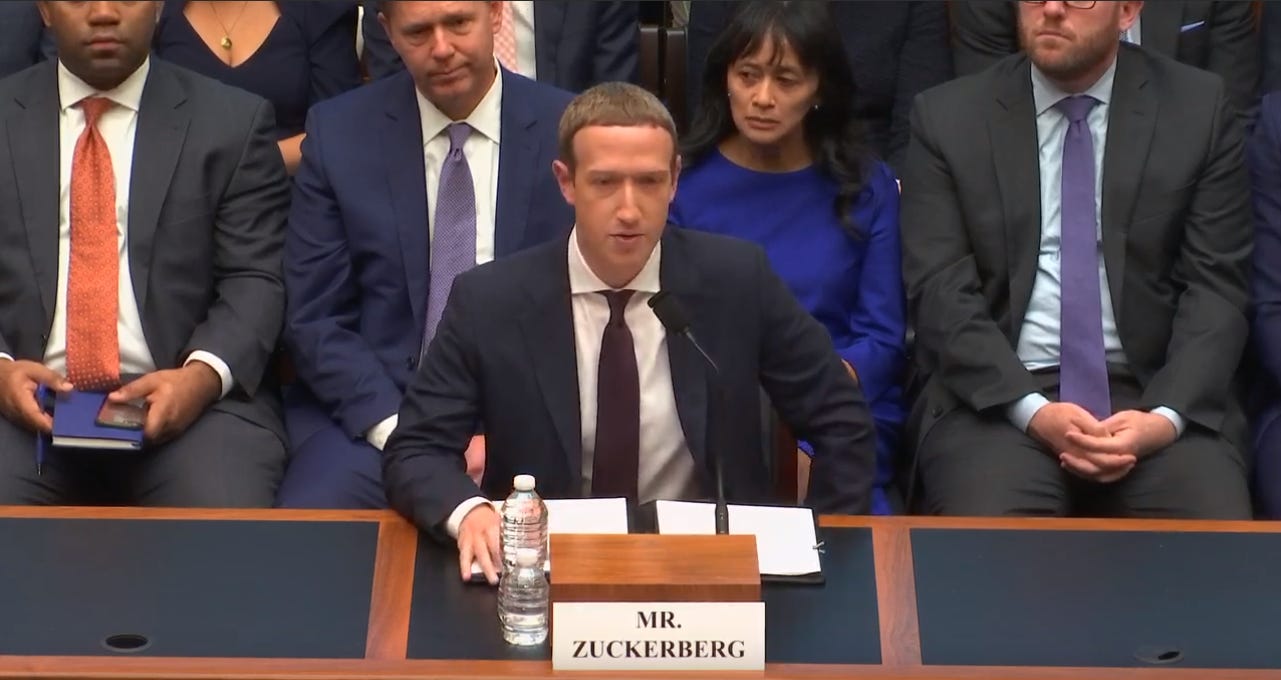 He called it his most "comprehensive" take on free speech and for the past week, Facebook's chief executive took his talking points on the road, starting with an address before students at Georgetown University to media interviews with Fox News and NBC Nightly News With Lester Holt, and then the main event last Wednesday: a hearing before the House Financial Services Committee over Facebook's Libra crypto project. Though he was dinged over his speech about free expression and was battered by lawmakers over various Facebook issues, Zuckerberg may want to call it a push—it was neither a win or a loss.
He maintained the status quo…for now.
If you took anything away, it's likely that Zuckerberg is trying to tightrope walk his way through this seemingly endless crisis caused by his own company. He claims to be giving power to the voiceless with Facebook but is it given to the right people, those that deserve to have their voice heard versus the conspiracy theorists and those using it with malicious intent? It appears Zuckerberg hoped a compromise solution would assuage everyone, that by offering a warning or arguments against the lie, it would make things better instead of removing the content outright which would likely be called out as censorship by the creator.
This reasoning carried over to his testimony before Congress. He acknowledged trust issues remained and Democratic lawmakers called him out on it, especially when relating to Facebook's Libra crypto project. Though much of the six-hour hearing centered around Libra, Democrats weren't shy about attacking Zuckerberg on other issues such as civil rights including how Libra would impact those underbanked, Facebook's $5 billion FTC settlement and data privacy scandals, his private meetings with President Trump, and whether he'd be willing to face similar conditions as the company's contracted content moderators (spoiler alert: Zuckerberg refused, saying it wouldn't be a good use of his time).
Contrary to previous hearings, Republican lawmakers were more sympathetic to Zuckerberg, expressing profound appreciation for his innovations, similarities with Trump, and that he was a capitalist. It seemed their anger over perceived conservative censorship had been tempered as a result of Zuckerberg's Georgetown speech, and their main argument was about Libra's base being in Switzerland versus the U.S. and worries about China outpacing the nation in tech development.
In the end, did we learn anything from the House committee hearing? Nothing significant about Facebook's ambitions. But we were reminded that the federal government doesn't know technology so we'll be having more of these debates in the foreseeable future.
So where do we go from here? Expect more of the same, is my guess. Facebook will continue to iterate on its policies and warn us of bad actors on its platform while also facing charges of facilitating misinformation and not doing enough to stem users from using its technology to incite violence and more. If anything, everyone scored political points, but no one moved the needle.
P.S.: I'd appreciate it if you added this Filed email address to your address book so it doesn't get blacklisted or labeled as "spam" accidentally. Thanks!
---
Want More Tech News?
If you're looking for more up-to-date news about tech, check out my Flipboard magazine "FYI". You can also follow my magazine "The Long Sunday Read" for great long-form articles about the tech industry. Both magazines are updated regularly.
---
Tech Briefs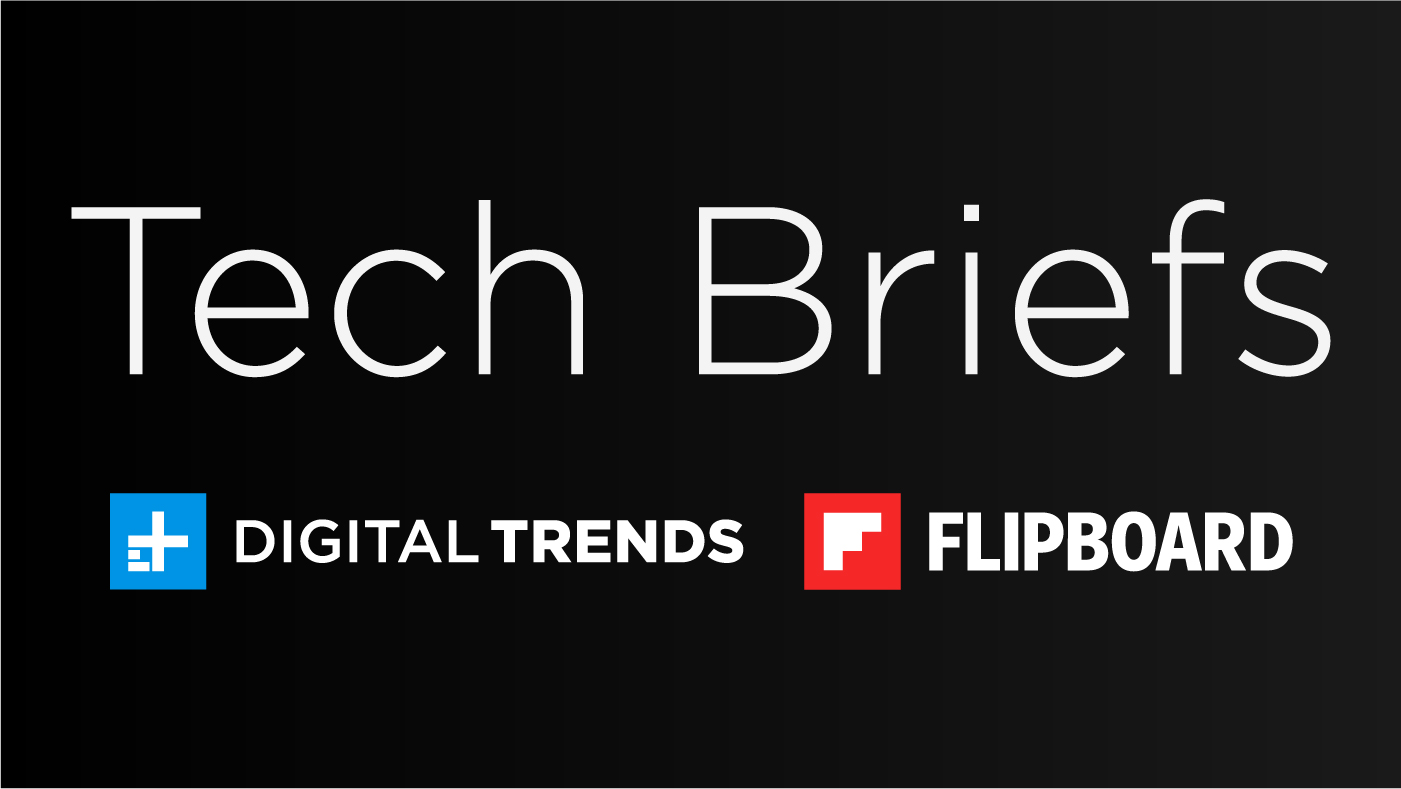 Every week, Digital Trends and Flipboard produce a segment called "Tech Briefs" where we cover the week's top tech news in 10 minutes (or so). It's also available as an audio-only podcast so please subscribe to it in your favorite app (Spotify, Google Play, Apple Podcast, Stitcher, and Soundcloud) because we oftentimes put together some exclusive episodes!
In this week's episode, we talk about Mark Zuckerberg's congressional hearing over Facebook's Libra, his company's news push, and Tesla's surprising third-quarter profit announcement.
---
This Week's Must-Reads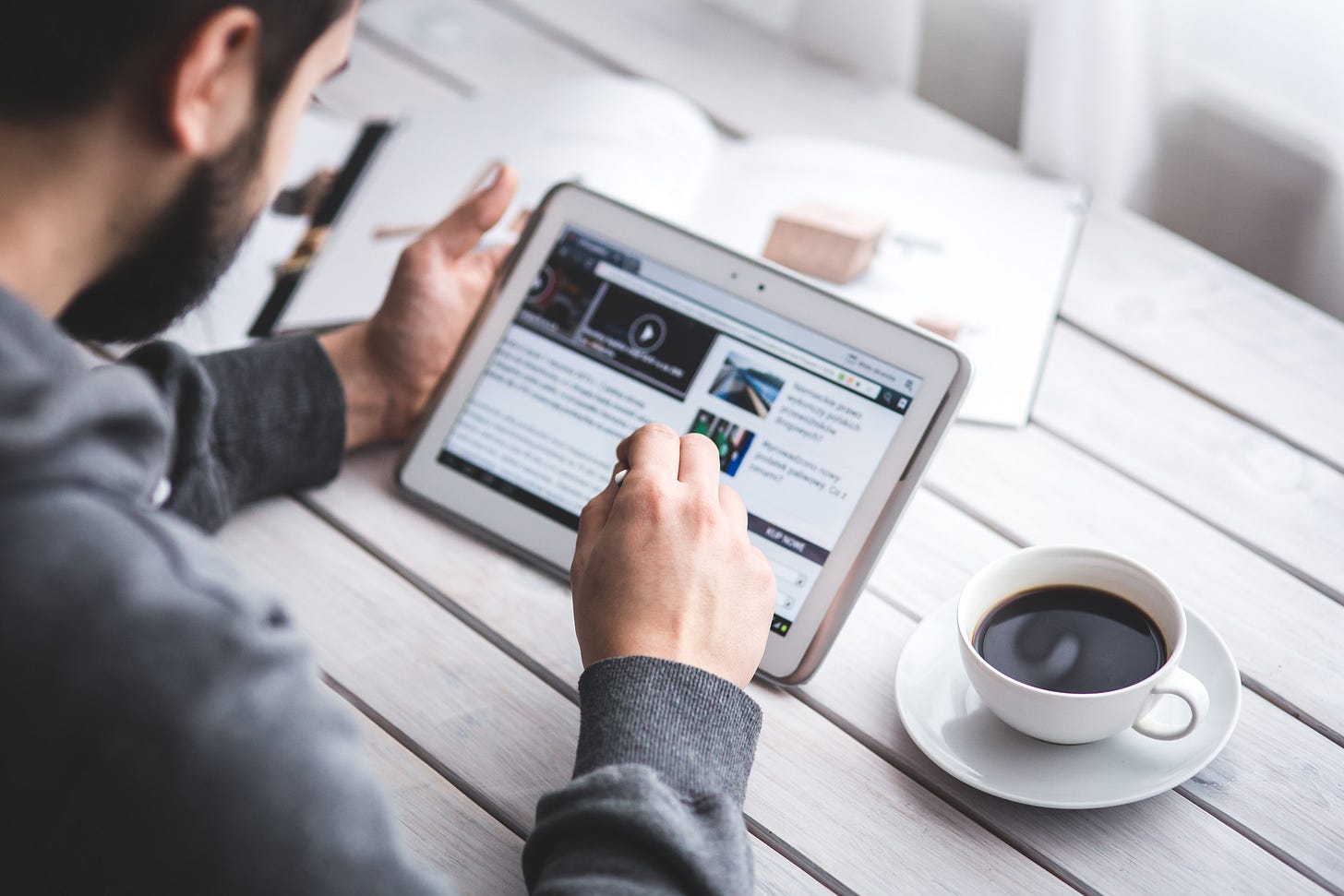 Eric Newcomer, Bloomberg Businessweek
Senator Elizabeth Warren has threatened to break up Big Tech should she be elected president but the question has been how would she do it? Look at the two big ideas she envisions, namely unwinding old acquisitions like Instagram and WhatsApp through the FTC; and prohibiting tech giants with more than $25 billion in revenue from operating an online marketplace that has services competing with participants of that platform.
Mark Zuckerberg, The New York Times
On Friday, Facebook announced its latest foray back into the news business. But this time around, the company is employing a full-court press approach and that involved this opinion piece from Mark Zuckerberg on why this time is different and what Facebook can do to actually help the media industry.
I've wanted to support journalism directly in our apps for a long time. But we've faced a dilemma trying to do more in the main News Feed because most of our community consistently tells us that they want to see more updates from their friends, family and communities, and less other content. For most people, social networks are still primarily about being social.
Zoe Dubno, The Outline
Remember ChatRoulette? Some powered through the random dick pics to find something more romantic. This piece looks at the journey James and Karen took to find each other starting from ChatRoulette to becoming a family.
James said it wasn't awkward to disclose to others how he and Karen met. If an inquiring mind "didn't know what Chatroulette was, then they'd just nod like it was any online dating site."

"But if they knew about Chatroulette," Karen smiled mischievously, "they'd freak out like, did he have his dick out?" ("I didn't!" James insisted).
Andrew Nusca, Fortune
Through its streaming music service, Spotify is credited as having played a critical part in revitalizing the music industry, namely how listeners discover artists and tracks. But after helping to usher in a new music era, of which Napster helped pioneer, can it capitalize on its success, or will well-armed competitors like Apple and Amazon impact its bottom line?
Taylor Lorenz, The New York Times
The popular teen app TikTok has infiltrated high schools becoming a tool adored by students and teachers. Some students have formed clubs to create content, what Lorenz described as "essentially drama clubs for the digital age", while educators are praising the app for teaching students about teamwork and camaraderie.
Derek Thompson, The Atlantic
Even though you're fond of getting office space, food, transportation, lodging, and other things handed to you on-demand, the truth is that the service providers are losing money and to curb expenses, those added costs could be passed along to you. This isn't something we should be surprised about—look at what's happened with Uber, WeWork, and other companies that have shown disastrous financials prior to going public.
If you wake up on a Casper mattress, work out with a Peloton before breakfast, Uber to your desk at a WeWork, order DoorDash for lunch, take a Lyft home, and get dinner through Postmates, you've interacted with seven companies that will collectively lose nearly $14 billion this year. If you use Lime scooters to bop around the city, download Wag to walk your dog, and sign up for Blue Apron to make a meal, that's three more brands that have never recorded a dime in earnings, or have seen their valuations fall by more than 50 percent.
Eric Reidy, MIT Technology Review
Activists used technology to investigate and document atrocities committed in Syria, such as GPS devices to track bombings, 360-degree videos to record the surroundings of explosions, Facebook and YouTube to inform the world of what's happening, often at great risk to themselves. They worried that in a time filled with conspiracy theorists (or worse), they needed evidence that was "unimpeachable." This is a story of what was uncovered and why nothing was done by Western governments.
Joseph Cox, Motherboard
Crime blogger Martin Kok was assassinated while leaving a sex club. It turned out MPC, one of his clients, was not an ordinary phone company.
Tiffany Kary, Bloomberg Businessweek
As a reporter, I'd been hearing a lot of Generation Z-age founders boast that their algorithms know consumers better than they know themselves. Their direct-to-consumer websites, which sell online without involving a retailer, claim to be able to refill shampoo containers just before they run out or tailor outfits to an individual's personal style. Could these algorithms actually change my life? Would they save countless hours—and preserve a whole lot of mental space—as I pursued my career and raised two young children? Why couldn't I let some tireless equation arbitrage my milk and soap needs, discriminating among competing retailers?
Lauren Kaori Gurley, Motherboard
South by Southwest, Coachella, Bonnaroo, and Pitchfork are some of the major music festivals publicly declaring that they will no longer use facial recognition technology following protests from musicians and activists.
Rage Against the Machine's Tom Morello, the Glitch Mob, and Speedy Ortiz were leading voices in the campaign, demanding concert promoters ban technologies that can be used to police concertgoers for drug use, target individuals for specific advertising content, or worse. "I don't want Big Brother at my shows targeting fans for harassment, deportation, or arrest," Morello tweeted in September.
---
That's all there is!
Thanks for not only subscribing but reading my newsletter. I hope you found it both enjoyable and informative. I encourage you to check out my Flipboard magazines and follow me on Twitter, Facebook, and LinkedIn. And please send me your feedback: how can I do better? Worse? Things you'd like to see featured?
If there are articles you think I might be interested in and should add to a future issue of Filed, please send it to me! I love to discover great content!
I'm off to scour the internet for more news…check your inbox next week for another issue of Filed. Share this with your friends and family and if they like it, encourage them to sign up at filed.news!